A short overview of available controls in Windows Ribbon Framework. This list will be updated from time to time until all controls are described. There are also some tips how to use the controls in Winforms projects. To test the described controls you will find a project which can be used to compile all snippets of Ribbon controls.
This blog contains a overview for most of Ribbon Controls available. You can generate a demo application with ProRibbon or by CommandLine. With ProRibbon Copy&Paste snippet, with CommandLine you can use this Blog to compile by command line.
Extract the demonstration project to "c:\temp\blogtemp\".
After extracting project open markup.xml (c:\temp\blogtemp\ProRibbonMarkup\markup.xml (Ribbon Markup Definition). Configuring the codeoutput is shown in video below.
| Property | Value |
| --- | --- |
| Namespace | ProRibbonTest |
| Form Class Name | FormTestProRibbon |
| Form Class Designer Ribbon File | c:\temp\blogtemp\ProRibbonTest\FormTestProRibbon.Designer.Ribbon.cs |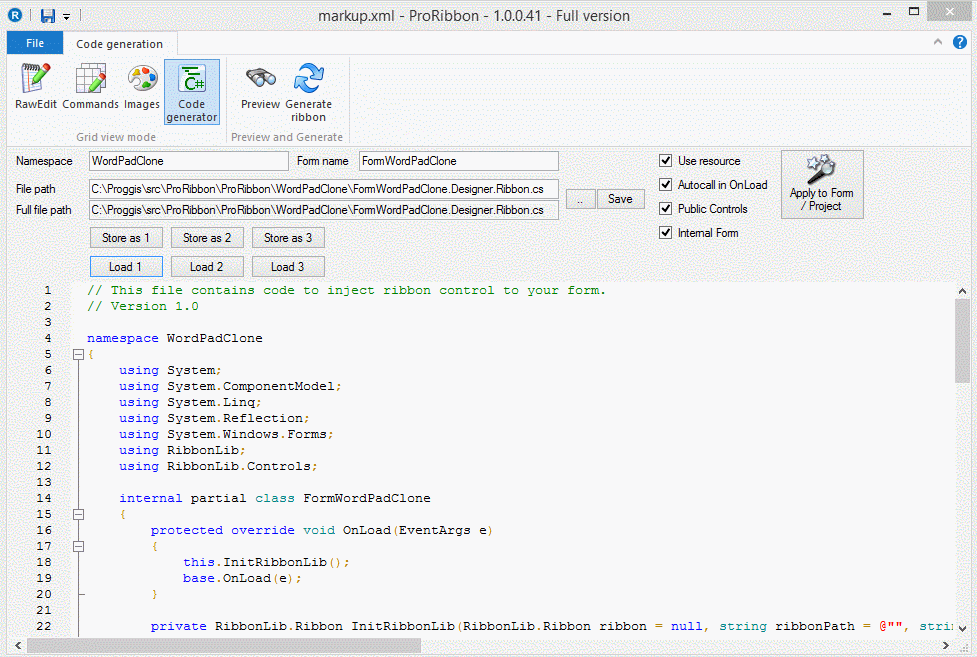 The following files will be your point of interest:
c:\temp\blogtemp\ProRibbonMarkup\markup.xml (Ribbon Markup Definition)
c:\temp\blogtemp\ProRibbonMarkup\genmarkup.bat (Compile/Link/Copy Windows Ribbon Markup to C# Resource)
c:\temp\blogtemp\ProRibbonTest\FormTestProRibbon.ribbon (Compiled Ribbon Resource)
c:\temp\blogtemp\ProRibbonTest\FormTestProRibbon.Designer.Ribbon.cs (Modify only if you !DON'T! use ProRibbon. Initialization of Ribbon Infrastructure is done here.)
c:\temp\blogtemp\ProRibbonTest\FormTestProRibbon.cs (Copy C#-Snippets to method RunSnippet)
After download and extracting demonstration project to c:\temp, doesnt matter if you use commandline compile or ProRibbon-Mode you can test application bei opening c:\temp\blogtemp\ProRibbonTest\ProRibbonTest.sln and starting the application. Remember!!! Ribbon have only to be compiled after markup.xml is changed. The Sample project is delivered with a short markup, which will show you a button. The corresponding ribbon binaray (c:\temp\blogtemp\ProRibbonTest\FormTestProRibbon.ribbon) is already available. So you can start the application by pressing F5. In case you modify the the markup file. You have to update the binary. This can be done by ProRibbon or by commandline. In case of commandline you have to update c:\temp\blogtemp\ProRibbonMarkup\genmarkup.bat, execute the batch and change any access code for the changed markup c:\temp\blogtemp\ProRibbonTest\\FormTestProRibbon.Designer.Ribbon.cs. In case of ProRibbon you press Generate Ribbon

. To regenerate the .NET Source you go to the code editor and press save. All images used in example can be found here: Visual Studio Image Library